Bass Club Of The West
Ft.Worth, Texas
Since 1978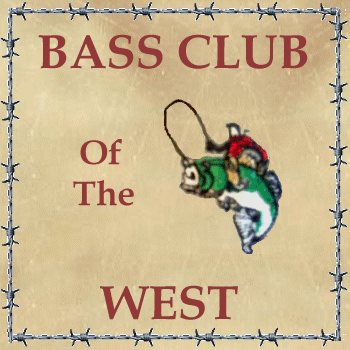 Enjoy Your Visit And Come Out And Fish With Us!

About Our Club: We are located in Fort Worth, Texas. We fish all twelve months out of the year. And hold club meetings once a month, always on the first thursday night of every month, they start around 7:00 p.m.. Meeting place is at Arizolas Mexican Restaurant, 6055 Lake Worth Blvd., Lake Worth, Texas 76135.
There is no membership fee to join our club but you must attend a meeting and be voted into the club by a majority of the members in attendance at that meeting.
If you have joined this Club in the past, YOU are still a member. This club has a Lifetime Membership, Once a member always a member. So if you have been in the club before, just come to the next meeting and start fishing with us again.
All of our tournaments are 1 day tournaments.
The entry fee for all tournaments is $30.00.
Also we have side pots:
Bass over 6 lbs. ($5.00 pot. This pot grows until someone weights a bass 6 lbs. or over. To be eligible to win this pot you must pay the $5.00 each month until the pot is won.)
Team pot ($10.00 pot. You can team with anyone fishing, you do not have to be in the same boat,the team with the highest combined weight wins this pot.)
Show pot ($5.00 If we pay out 2 places in the tournament, 3rd. place would get the money in this pot.)
A Big Bass pot ($10.00 pot)The fisherman that weights the biggest Bass of the tournament wins this pot. No matter the weight of the Bass.
We pay 1 out of every 5 entrys on stringer. 3 fish weigh-in limit.
The club pays out 80% and keeps 20% back for the end of the year Championship.
We give out awards at the end of the year for the Top Six Anglers, and Angler Of The Year.
Club Officers for 2016 - 2017
President: Pat Sliva
Vice President: Chuck Russel
Secretary: Bobby Robertson
Bobby's # is: 817-897-5195 if you have any questions
Treasurer: Mike Finney
Mike's # is: 940-735-5123
Tournament Director: Bob Nash
Sergeant-at-Arms: Lannie Robertson
Bo Gholson will run the Raffle this year !!!
If you have any questions, our e-mail address is below.

BassClubOfTheWest@flash.net

You Are Visitor
Thanks For Visiting Our Web Site!
Please Consider Joining Our Club and Fishing With Us!!!
Web Master: Bobby, If you encounter any problems, or would like to make a commit concerning this web site, please let me know. At:

BassClubOfTheWest@flash.net




Copyright©Bass Club Of The West.All Rights Reserved.